Test Page Sections 1
This is some test content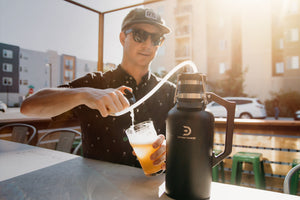 DrinkTanks® started in Bend, Oregon in 2013 with a little curiosity, a "what if" attitude, and the belief that nobody should have to sacrifice the quality of their favorite drink for the sake of their adventure. After two years of research + development, we launched our Craft Growler and Personal Keg in 2015. Our founder, Nick, didn't set out to revolutionize the growler industry, but that's exactly what happened. 
Today, DrinkTanks® makes premium growlers, CO2 dispensing equipment, and premium beverage accessories. With our complete Travel Keg™ system and adventure-ready cups and accessories, customers never compromise on flavor or quality, no matter where life's adventures take them. 
What we believe
DrinkTanks believes that everyone from beer connoisseurs to backyard barbecuers deserves first-pour freshness, anytime, anywhere.
What's so Revolutionary About Our Product?
Superior Vacuum Insulation Keeps Beverages Colder, Longer
DrinkTanks® Craft growlers are double-walled, vacuum insulated, and have a unique ¾" cork insulated cap to keep your favorite beverages colder for longer. Much longer in fact. On average, our Craft growlers keep any beverage cold for 45 hours and sometimes more. For drinking on the go and in the moment, our lightweight Session growlers keep your beverage cold for 24+ hours. Temperature is an essential factor in preserving the flavor integrity of whatever fills your cup -- from your favorite IPA at a backyard BBQ to brunch mimosas to ice cold water at the end of a long hike.
Dual-Bail Closure Preserves Carbonation for Up to a Month
The patented DrinkTanks® dual-bail closure system is unique in the insulated drinkware market because it creates even pressure all the way around the growler lid's seal. This means far less gas can get in our out, so bubbles stay bubbly far longer than with the competition. Unopened, our Craft growlers retain carbonation for up to 30 days. As an added bonus, the unparalleled seal also prevents oxygen transfer that can cause spoilage and off flavors in many beverages, especially beer.
Best Served On Tap -- Adventures + Your Favorite Drink
The most effective way to preserve any beverage's ideal flavor and carbonation is by pouring directly from a tap system using CO2 or nitrogen gas. A gas tap system offers more control of carbonation + temperature during both storage and delivery. It also prevents the large loss of carbonation + temperature and exposure to flavor-damaging UV rays that occur when fully opening the growler lid. When enjoying any of life's adventures, DrinkTanks® wants you to have the best experience of whatever fills your cup anytime, anywhere, and always on tap.