Categories
What is a growler?
Well, the Internet tells us a growler is pretty straightforward and single minded.
growler
[grou-ler] noun
Informal. a pitcher, pail, or other container brought by a customer for beer.
To us, a growler is the best partner to ride shotgun on all of life's adventures -- big or small, solo or family, hot or cold. Whether you fill your growler with the new brew from your favorite local brewery or use it to pour fancy cocktails at your next backyard barbecue, we hope you'll discover that a DrinkTanks® growler helps you enjoy whatever fills your cup, anytime, anywhere.
What can I put in my DrinkTanks® growler?
We recommend you fill your DrinkTanks® growler with whatever fills your cup – metaphorically and literally! We've spent a long time telling the world they're "built for beer" – which is true – but with all the premium tech that a complex beverage like beer needs, that means they're also built for wine, spirits, sodas, fruit juices, coffee, cocoa, milk, tea, and of course, ice cold water!
How do I know if I have a 1.0 or 2.0 Craft Growler?
There are a few key differences to look for:
1. The handle and how it is attached to the growler.
2. The logo. -- but logos can change, so this may not always be a sure-thing.
3. The seal. -- This is where it really matters. When you purchase replacement lids, or the Keg Cap, the Spout Cap, or any other future lid accessories we may come out with, it will be important to know which growler you have because we need to provide you with the correct gasket in order to make a proper seal.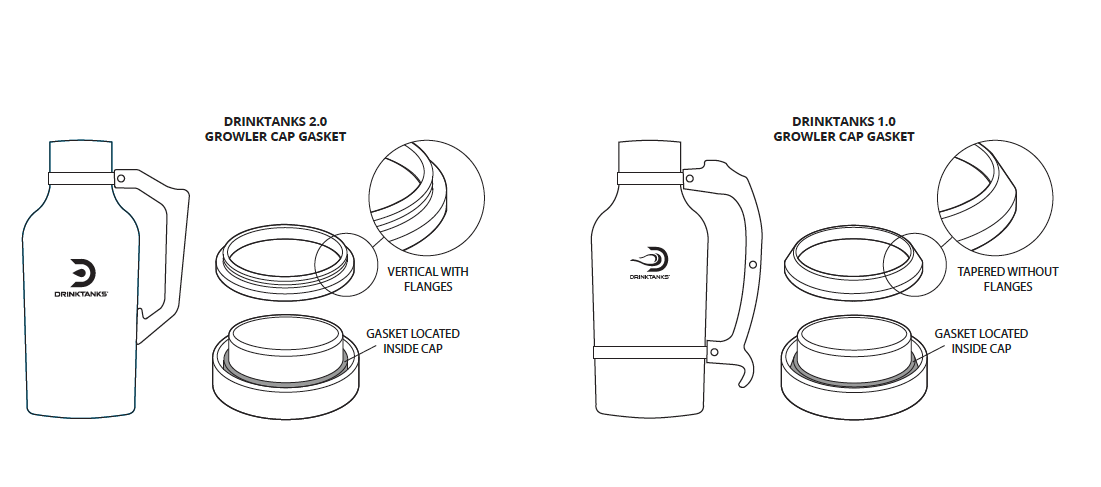 How long will my DrinkTanks® growler keep liquids hot or cold?
Growlers in both our main product lines -- Craft + Session -- have the same wider double-wall vacuum insulation chamber that helps set our temperature retention above all our competitors, all with no condensation or sweating. Due to the more technical cap and patented dual-bail closure system, our Craft growlers keep beverages cold for up to 45 hours, and our Session growlers keep beverages cold for 24 hours or more. We find both lines keep our drinks hot for a minimum of 12 hours, more than enough time to keep coffee piping hot for a full work day!
How long will my DrinkTanks® Craft growler keep carbonated beverages fresh with the Standard Cap?
We always recommend that you fill and transport your DrinkTanks® Craft growler with the Standard Cap that comes with purchase. Your beer will stay fresh and pressurized for up to 30 days with the Standard Cap until the seal is broken, much like a can once it is opened. After you've opened your Craft growler and poured a drink, you should always fully seal it with the dual-bail closure system to retain as much freshness + remaining carbonation as possible. If opened only once, your growler can maintain its carbonation + flavor integrity for up to one week.
What are the lines on the inside of my Craft Pint or Half Pint Event Cup?
The measurement lines on the inside of our Craft Pint Cup and Half Pint Event Cup are ounce markings. With easy-to-read laser etching, you won't have to slow down or use multiple pieces of barware to mix the perfect cocktail, pour a taste of rare beer, or fill your cup with a proper wine pour. Our cups were designed to make sipping easy + always at the perfect temperature, but the ounce markings come in handy when quickly mixing up something fancy. Our team even uses them to measure cocktail ingredients into their growlers!
Where can I get my growler filled?
Fresh is always best! So we recommend popping into one of the over 7,000 local breweries, cideries, meaderies, and growler fill stations to get your suds. Remember that growler fill laws vary by state, and some breweries require you to fill a growler branded with their logo and sold on site. You can always call before heading in for a fill to clarify their rules!
What are my state laws regarding growler fills?
It depends! Since we know that's not very helpful and laws vary greatly from state to state, you can check out your local laws on the Brewers Association website here.
How long does one CO2 cartridge last?
First things first, remember that with CO2, less is more! It's a lot easier to add more CO2 to your growler than it is to remove too much CO2 that causes foam and makes it difficult to control that perfect pour. When using the Keg Cap®, it only takes a quick half second "open-close" of the CO2 injector to charge the growler with enough gas to dispense. Check out our Keg Cap® Pro Tips video for more on CO2 charging. 
With appropriate charging, one of our 16 gram CO2 cartridges lasts for two to three full fills of the 64 oz Craft growler or one to two full fills of the 128 oz Craft Growler. We recommend directly pouring from our 32 oz Craft Growler rather than using any of our dispensing equipment since the use of CO2 dispensing requires at least 10 oz of head space to function properly.
What is a Keg Cap®, and how does it work?
Our patented Keg Cap® is a cap attachment for our Craft growlers that turns them into your own mini travel keg delivering first-pour freshness anytime, anywhere, and always on tap. To watch one of our Certified Cicerones® put it to use, check out our Keg Cap® Pro Tips video!
The Keg Cap® was designed to keep your favorite beverages fresh long after your growler has been opened. By using the Keg Cap®, you eliminate the need to open your growler every time you need a refresh on your drink, and this eliminates repeated loss of temperature + carbonation and exposure to UV rays, the trifecta of enemies to flavor retention. And when it comes to beer, your favorite brew will always taste as close to brewery fresh when it's poured from a tap.
Using a simple twist of our CO2 injector, you can "charge" your 64 or 128 oz DrinkTanks® Craft growler with CO2 gas, the same kind used to dispense beer from the tap at a bar. This added gas into a closed system (the sealed growler) creates surface pressure on the liquid below it. Then, when you press the faucet open at the end of the tubing, that same pressure pushes liquid through the tubing to deliver the perfect pour of whatever fills your cup. If you have any liquid remaining in the growler but are done pouring, it's best to charge the growler once more with CO2 and then place it in the refrigerator until your next use.
The Keg Cap® is also equipped with a pressure release valve to "burp" off gas at a pressure of 10 PSI (pounds per square inch) inside the growler. This means you don't run the risk of dangerously over-pressurizing your growler.
Remember to NEVER unscrew the CO2 injector from a CO2 cartridge until you have twisted it fully open to ensure there is no gas remaining in the cartridge. You should also NEVER charge your growler with CO2 before first ensuring there is at least 10 oz of head space above the liquid. The best way to do this is to pour off a pint when removing the Standard Cap to install the Keg Cap®. It is always best to transport your growler with the Standard Cap to prevent any accidental leakage from the Keg Cap® faucet.
What is included in the Keg Cap® package?
Your Keg Cap® will come in a tight little box that contains:
1 - Keg Cap® assembly
1 - CO2 injector
1 - Tap Clip to secure the Keg Cap® tubing to your Craft growler
2 - 16 gram food grade CO2 Cartridges
1 - Mesh Carrying Bag to keep it all together when not in use
Once you use up the two CO2 cartridges, you can always buy more by heading over to our CO2 6-pack product page. If you lose any parts of the Keg Cap® kit, you can always purchase individual parts from our Dispensing Line.
What kind of CO2 can I use with your dispensing products? Can I use Nitro?
You can ONLY use 16 gram, threaded, non-lubricated food grade CO2 cartridges with our Keg Cap®. Do not attempt to use Nitrogen gas with the Keg Cap® or any of our current products. We recommend purchasing our CO2 6-pack if you aren't sure a cartridge meets these requirements.
How do I clean the Keg Cap®?
The Keg Cap® should be hand washed with warm soapy water or, for best results, with our Tank Powder. You can see full cleaning instructions in our Keg Cap® Pro Tips video by fast-forwarding to minute mark 2:38. Remember to always store your Keg Cap® with the faucet left open to keep air flowing through the tubing!
What do I do if my Keg Cap® leaks liquid/CO2 or doesn't seem to be working properly?
We are here to help troubleshoot! We stand behind all our products, and our Customer Care Team is here to help Monday through Friday. You can submit a claim by emailing info@drinktanks.com or by calling us at 1-541-728-5579. A member of our team will respond within three (3) business days.
The Spout Cap doesn't fit on my DrinkTanks growler. Why?
We redesigned our Craft Growlers in 2018 (version 2.0), which included a redesign of our main cap gasket. If you have an older style DrinkTanks growler, we can send you a replacement gasket for your Spout Cap that will work with your 1.0 growler.
Quite a bit of pressure built up inside my growler. What's the best way to open it so it doesn't make a loud popping sound?
The first time you open your growler after a fill with a carbonated beverage, you may experience a loud pop. If this is an issue, we recommend opening one of the growler bails first so the excess pressure can escape. Then, close the bail and operate the Spout Cap normally. Once you've dispensed some liquid, the pressure usually doesn't build up enough to cause a loud noise when opening.
I lost / damaged the main gasket for my Spout Cap. Can I get a replacement?
Yes, we can send you a replacement.
I lost / damaged the small seal inside the Spout Cap's lid. Can I get a replacement?
Absolutely! Just reach out to us on our contact page and we'll get you taken care of.
How long does it take to get a custom order?
Custom retail orders usually ship out within 10 business days once the order is received.

What process is used to engrave?
Customized products are laser engraved revealing the stainless steel under the powder coating. We do not offer color customization. For stainless steel, the decoration will be in a black laser mark.


What products can be customized?
What's the best way to clean my DrinkTanks® product? 
For best results, we recommend hand washing all our products with our biodegradable, natural, USA-made Tank Powder following the instructions in our Pro Tips cleaning video. Our Tank Powder is also great for any other stainless steel food or beverage containers, as well as plastic water bottles or water bladders with their tubing + nozzles, camp kitchen supplies, or anything that needs a little scrubbing and sanitizing in the backcountry. 
We especially recommend hand washing any tubing included in our products, such as that found in the Keg Cap®. The Keg Cap® should be hand washed entirely, and you can find cleaning instructions in our Keg Cap® Pro Tips video.
Are DrinkTanks® products dishwasher safe?
Absolutely! All our products except for the Keg Cap® are dishwasher safe as long as you use detergent that does not contain bleach. If you aren't sure, check the detergent ingredient list for sodium hypochlorite or calcium hypochlorite.
How do I know if my dishwasher detergent has bleach in it?
Many labels will say "Contains Bleach", but sometimes bleach can be hidden under another name in the ingredient list. Check the label for sodium hypochlorite or calcium hypochlorite. If either of these are an ingredient, they can cause discoloration in the powder coating on our growlers + cups.
How do I submit a warranty claim?
We hope you never need it, but we stand behind a no-hassle lifetime warranty on our products. Our Customer Care Team is here to help, and you can reach them by heading over to our Warranty Page to learn more about what's covered and how to submit a claim.
When can I expect to receive my order?
DrinkTanks® website orders ship default UPS Ground from our warehouse in Portland, Oregon. We also offer UPS 3 Day Select for an extra charge. If your mailing address is a PO BOX, APO/FPO or International, please select USPS for shipping. We no longer offer local pickup from our headquarters in Bend, Oregon. 

Handling time for US domestic orders is typically about 2 business days and 10 business days for custom or international orders. All orders are shipped in branded DrinkTanks® boxes made from recycled materials unless otherwise requested.
How much will my shipping cost?
Shipping is calculated based on the total order weight and the delivery zip code, so be sure to enter an accurate shipping address. If a shipment is returned to us as undeliverable or refused, the customer will be responsible for any additional charges resulting in the return or in having to re-ship the package.

If you have specific shipping questions, please contact our Customer Care Team via email at info@drinktanks.com.
Can I pick up my order locally?
We no longer offer local pickup from our headquarters in Bend, Oregon. 
Why can't I ship my order faster than ground service?
If your order contains CO2, your shipping option is limited to ground service.
Can I return my DrinkTanks® product?
We hope you'll have your DrinkTanks® product for a lifetime, but should you need to return it, you absolutely can! See our Warranty Page for more information on Warranty Claims and Returns.